Although it's a delightful drink on its own, we're often asked what food goes well with Prosecco? That's why, in this article, we'll guide you through some of our favorite options, so you can pair Prosecco with ease.
Both dry and fruity, typically with light bubbles, Prosecco is robust enough to be paired with a broad variety of dishes and snacks, from brunch to birthday dinners and picnics. In general, as with most white wines, it's best with white meat, fish and seafood dishes with light flavour profiles – although spicy foods can bring fruity notes to the fore.
WHAT FOOD GOES WELL WITH PROSECCO?
PROSECCO AND ITALIAN DISHES
As an Italian sparkling wine, Prosecco lends itself to its home nation's cuisine, which focuses on highlighting the natural flavours of fresh, high-quality ingredients. Enhancing delicate seasoning, herb infusions and complex flavour profiles, Prosecco is the perfect partner for many Italian dishes.
Its natural, restrained and delicate character never contradicts or overpowers Italian dishes. As a matter of fact, it often amplifies and enhances many ingredients because it has a crisp acidity that cuts through any rich or fatty foods.
Dishes that pair deliciously with the bubbly wine include:
Italian-style mushroom omelette: simple but tasty, this dish showcases the flavours of everyday ingredients. Sautee fresh mushrooms in a pan to remove the water before adding eggs, salt and pepper. Before you finish cooking, top with a little broken up mozzarella to add creaminess, then drizzle with extra virgin olive oil before serving. A glass of crisp Prosecco will cut through the richness of the cheese and eggs while adding extra complexity to the dish.
Seafood pasta: bring together the salty, creamy flavour of fresh seafood with high-quality pasta, garlic and lemon for an easy summer main that holds its own against Prosecco. The dry acidity of the wine joins forces with the lemon to enhance the natural flavours of the seafood.
Crostini: typically served as a starter or antipasti, crostini are small slices of toasted or grilled bread topped with almost anything you can imagine. Tomato and basil is a classic combination. The sweet tomatoes and fragrant basil are enhanced by the dryness of the Prosecco to really wake up those tastebuds!
PROSECCO AND JAPANESE DISHES
There's a reason that Japan is importing more Prosecco than ever before; it's the perfect partner for Japanese cuisine.
Tasty, subtle and elegant, Japanese dishes feature seafood, rice, vegetables, noodles, tofu and soy. These delicately flavoured ingredients need the right wine to enhance them without smothering them.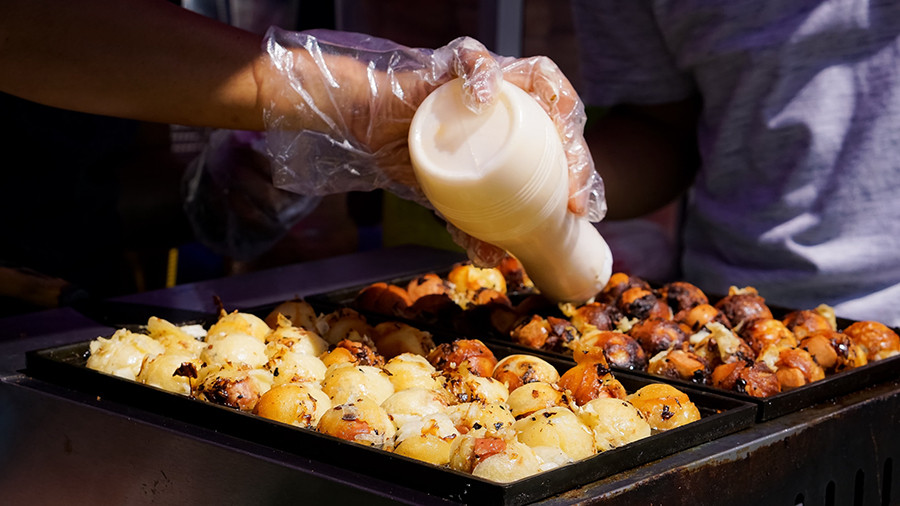 Again, Prosecco is the perfect accompaniment. It adds subtle amounts of gentle citrus and floral flavours that complement Japanese dishes. In addition, the natural acidity of Prosecco offers further vibrancy to the tasting experience.
Takoyaki: these fried octopus balls are the epitome of 'umami'. Coated in a Worcestershire Sauce-style coating, these savoury, rich and moreish morsels are ideal with Prosecco.
Nimono: this array of broth-based dishes can be made up of a wide variety of elements including meat and vegetables, but it's the soup that makes it. The clear stock is typically flavoured with miso, soy sauce, mirin or sake. It has a delicate savoury flavour, which is brightened by a chilled glass of Prosecco.
Nigiri sushi: familiar to many, this sushi dish is made up of raw, fresh fish laying on a bed of compressed, vinegared rice. The subtle acidity of the rice is enhanced by the sparkling wine, which also cuts through the oils of the fish to create a harmonious balance.
SNACKS TO SERVE WITH PROSECCO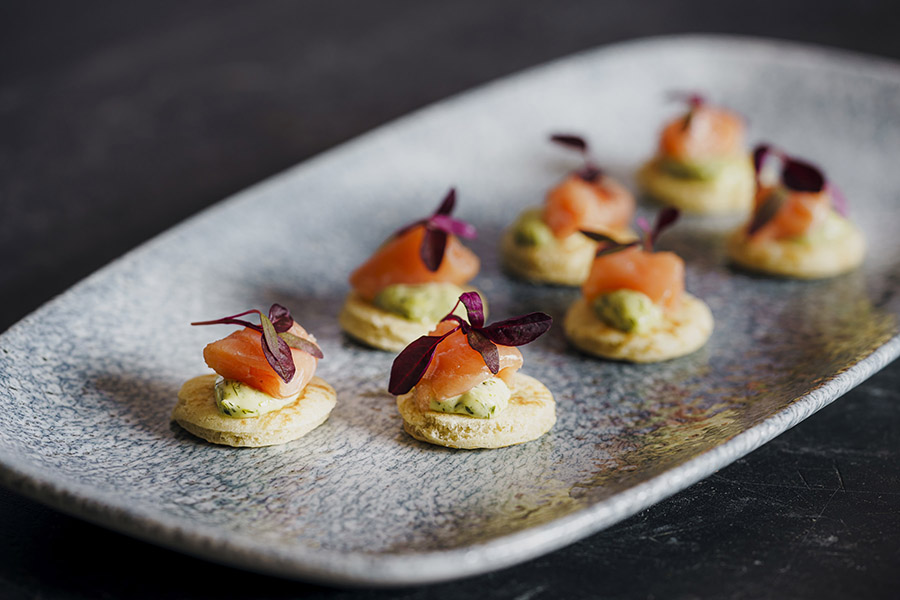 Aperitivo, or pre-meal drinks, is a popular tradition in Italy, thought to enhance the appetite and prepare the stomach for dinner. While the drink in question was typically an Aperol Spritz, straight Prosecco is increasingly popular, and it's usually accompanied by a selection of snacks and nibbles. Here are some of our favourites:
Antipasti: think lightly salted items, like fresh seafood or cured meats, such as wafer-thin Prosciutto or Parma ham to bring out the delicate floral notes of Prosecco. Serve alongside Italian breads, olive oil and balsamic vinegar for dipping. And don't forget the olives!
Brunch: more substantial than breakfast but less heavy than lunch, this is the perfect meal for Prosecco. We'd opt for smoked salmon blinis because while they're simple to make, the oily, rich flavours of the fish counteract the dry fruitiness of the wine.
PROSECCO AND CHEESE PAIRINGS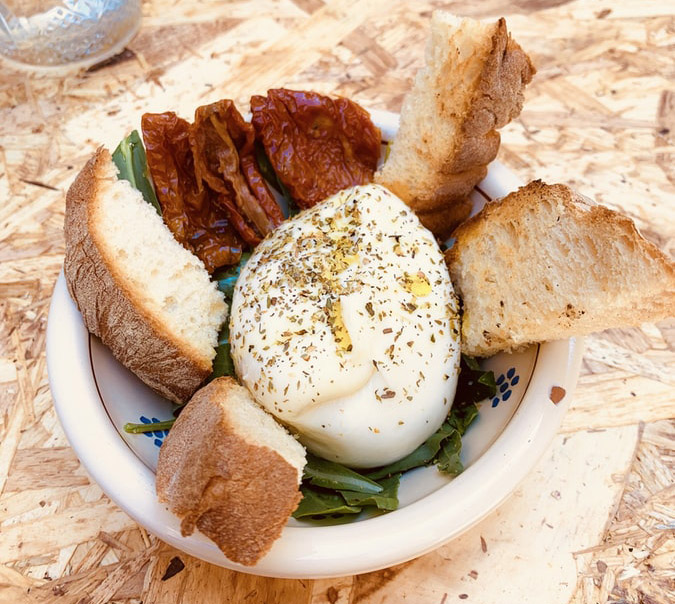 As highlighted by the mozzarella in the omelette recipe above, Prosecco is a great match for mild and creamy cheeses. The acidity of the wine cuts through the richness of the dairy to provide balance and complexity. Consider trying Prosecco with the following:
Grana Padano: hailing from Northern Italy, this crumbly hard cheese is less salty than Parmigiano Reggiano and has a more subtle flavour profile. These features make the cheese less overpowering and more wine-friendly than Parmesan.
Burrata: the height of decadence, this fresh Italian cows' milk cheese is made from cream and mozzarella. The outer casing of mozzarella hides a creamy soft interior, which is delicious on its own or with toasted Italian bread. The yeastiness of the Prosecco gives the Burrata a lovely tartness.
Brie: the earthiness of this soft French cheese is complemented by the fruity notes in Prosecco. The contrasting mouthfeel is also pleasing. Consider adding grapes and crackers to add texture and interest.
PROSECCO DESSERT PAIRING
Don't be fooled into thinking that Prosecco is just for savoury dishes. Unlike many white or sparkling wines, the floral aroma and neutral palette means it pairs beautifully with desserts and puddings too.
Fresh fruit is a fantastic choice. The natural sweetness of ripe peaches emphasises the dry notes of Prosecco, providing balance to your dessert.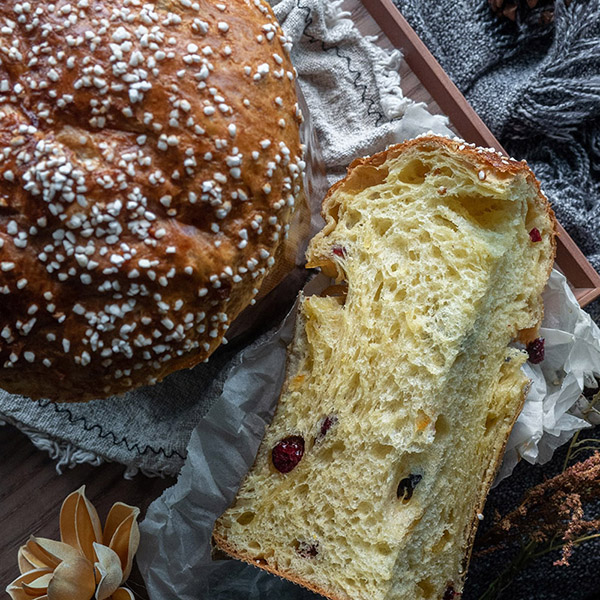 And while panettone is a Christmas food in Italy, it makes a fabulous pudding at any time of year. The light, golden sponge, studded with gems of dried fruit, pairs delightfully with Prosecco. Slice and toast to release the sweet scent of baking cakes.
Speak to us about Prosecco Food Pairings Today
If you're looking for the perfect Prosecco for your next dinner party, or want to give a bottle as a gift, get in touch. Our expert team is on hand to offer help and advice about Prosecco.
While you can always consume Prosecco on its own, you can pair it with certain foods to enhance your dining experience. This wine can bring out the best in many cuisines. This is a pairing guide you can consider when you have a bottle of Prosecco.