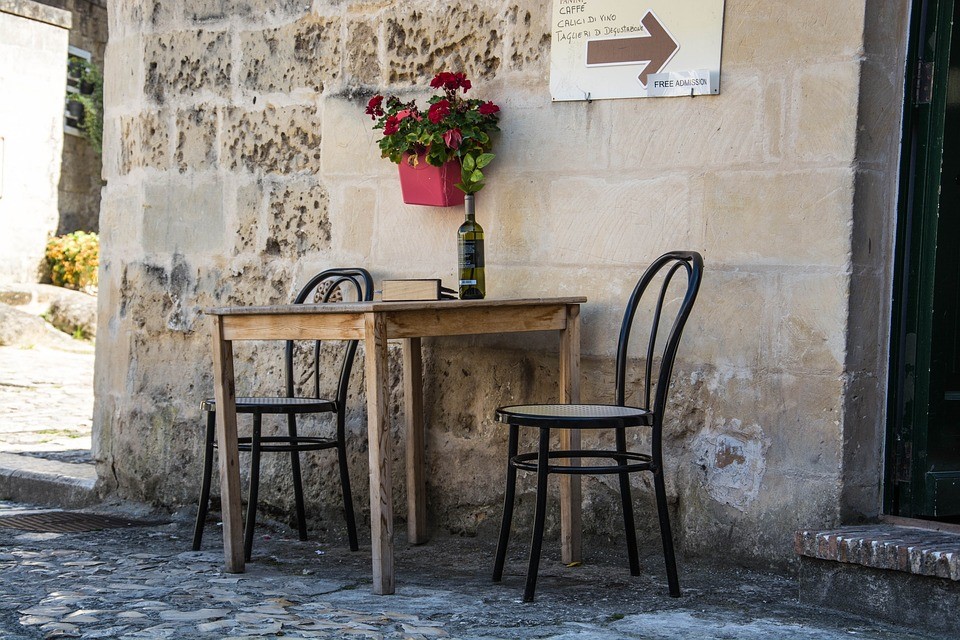 Wine pulses through the very veins of Italy. Centuries of passion and pride mean it's entwined in the country's cultural fabric, and an intrinsic part of everyday life. Italians enjoy a glass or two with lunch and dinner, considering it to bring both health and happiness.
Anni e bicchieri di vino non si contano mai.
Age and glasses of wine should never be counted.
Learning to love wine like the Italians means appreciating the heart and soul that has gone into every bottle. Just like a piece of art, understanding the history, context and composition of wine can only enhance your experience.
Whether you're a wine-lover looking to learn more or someone in search of the perfect bottle, our Italian wine guide can help. You'll find out how to understand Italian wine labels, how Italy came to be one of the world's wine capitals, and how the different regions have shaped your favourite varieties.
Italian wine glossary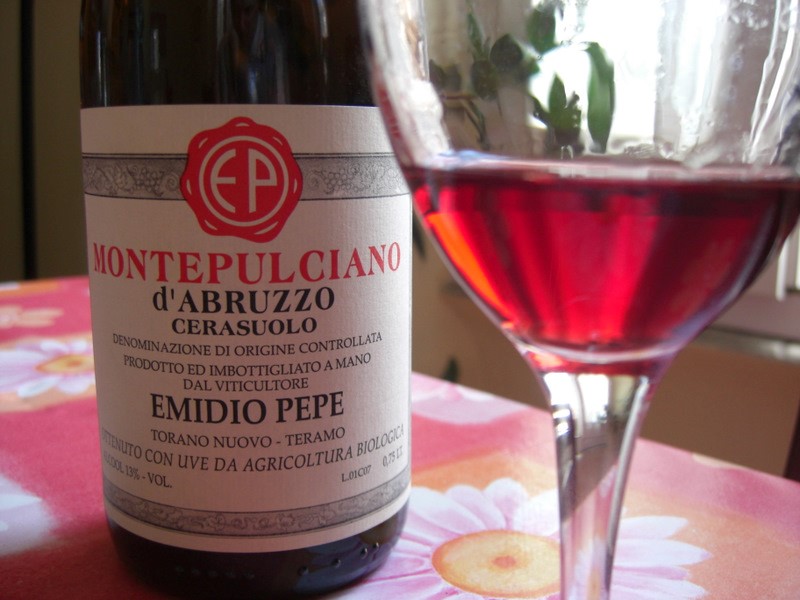 If you're struggling to understand the wording on an Italian wine label, this glossary should help out. We've also included a pronunciation guide so you can place wine orders confidently in Italian restaurants.
ItalianPronunciationEnglishVinoVee-noWineRossoRoh-soRedChiarettoKia-rlettoPale red/dark roséRosatoRow-za-toeRoséBiancoBe-an-coWhiteSecco/asciuttoSee-ko/Ash-oo-toeDryAbboccatoA-bu-car-toeMedium-dryAmabileA-ma-bee-layMediumDolceDol-chaySweetTranquilloTran-kwee-lowStillFrizzanteFreet-zan-tayLightly sparklingSpumanteSpu-man-taySparkling
The history of Italian wine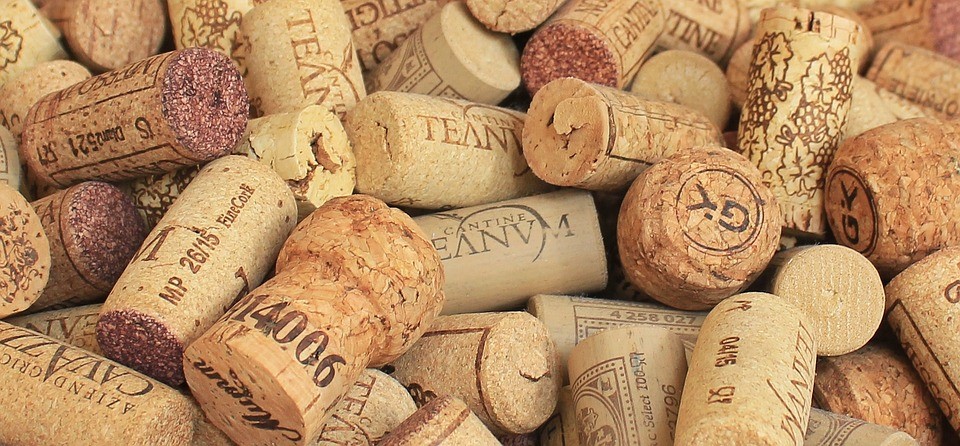 Italy is the world's largest wine producer by volume. The European Union estimates that the country produced 51,496,000 hectolitres in the year to April 2016 — that's enough to fill a standard wine bottle for every person alive on Earth, or 2,060 Olympic-size swimming pools.
So how did Italy come to produce so much wine?
Italy's fantastic terroirs meant wild vines grew naturally for millennia, but it was not until the Bronze Age that this potential was harnessed. Mycenaean Greeks settled in Southern Italy and recognised its potential for winemaking. They imported vines from Greece, and named Italy Oenotria: 'the land of wine'.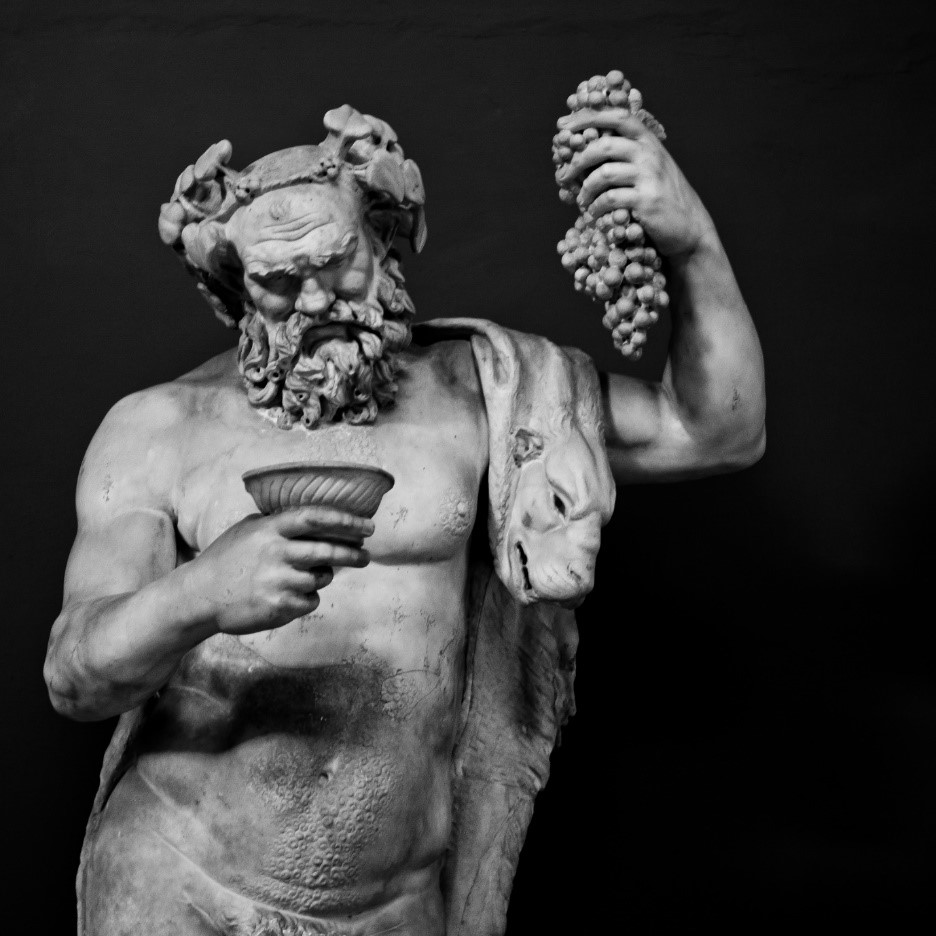 Statue of Dionysus, Greek god of wine, at the Vatican: © Derek Key – Licence
Viticulture spread to central Italy, where the Etruscans developed new techniques. For example, they utilised temperature-controlled fermentation by burying their crushed grapes underground. Research suggests that this civilisation introduced winemaking to France.
But it was the Romans who cemented Italy's love affair with wine, around 300BC. They used wooden barrels after discovering that wines could improve with age, introduced trellises to boost yields, and began categorising grapes on where they grew best.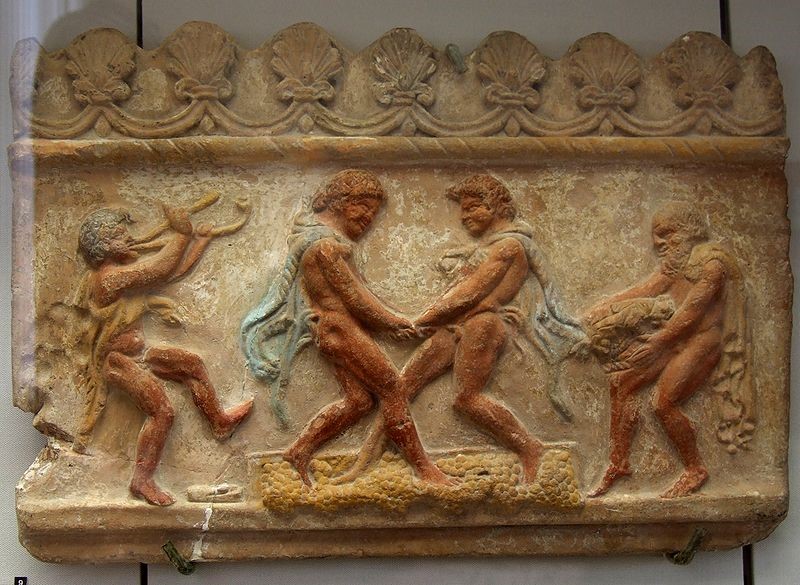 Roman architectural relief depicting wine treading: Source – Licence
The Romans loved their wine, though their favourite tipple was surprisingly white wine from Falernian, near Naples. And because the alcoholic content was much higher, they often diluted their wines with water. Something Roman poet Catullus didn't seem to approve of:
Catullus 27
Minister uetuli puer Falerni,
inger mi calices amariores,
ut lex Postumiae iubet magistrae,
ebrioso acina ebriosioris.
At uos quo lubet hinc abite, lymphae,
uini pernicies, et ad seueros
migrate. Hic merus est Thyonianus.
O servant boy of old Falernian wine,
fill rather bitter cups for me,
as orders the law of the mistress Postumia,
who is drunker than a drunken grape.
But you, depart from this place that pleases you, waters,
destroyers of wine, and move to the
serious ones. This is pure Bacchus (wine).
With the fall of the Roman Empire in 500AD, the demand for wine plummeted. But Roman-Catholic monks kept wine-making alive in Italy until its resurgence during the Renaissance. Italy's reputation for fine wine took a knock in the 19th century as quality deteriorated, but the introduction of a wine classification system put the country firmly back on the 'oenophiles' map.
Italian wine classifications
The Italian government introduced a wine classification system in 1963, to provide guarantees on product origins and authenticity to customers, and improve the quality of Italian wine. Today, it aligns with the quality labelling guidelines imposed by the European Union.
DOCG and DOC wines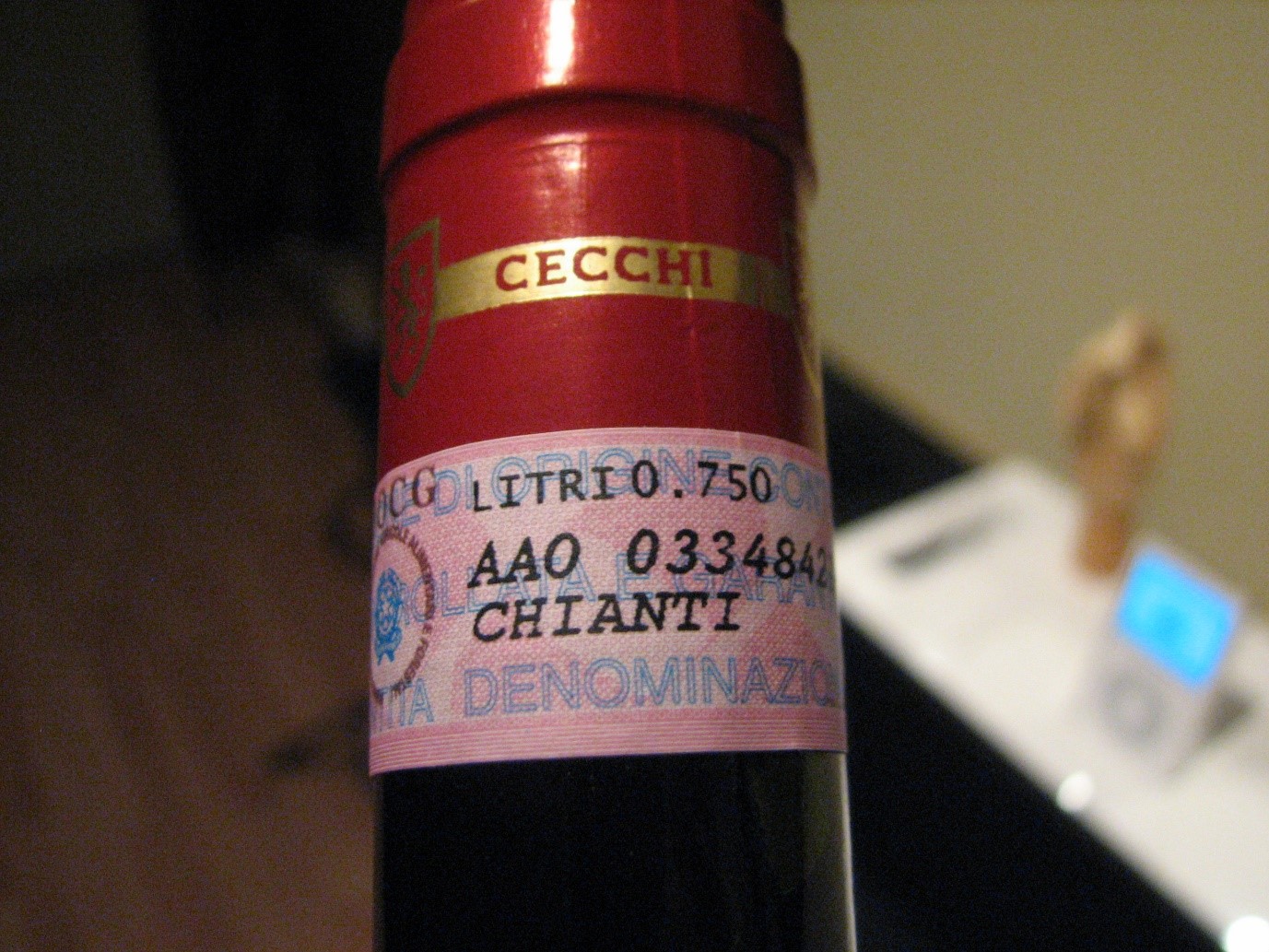 The governmental seal on a bottle of Chianti DOCG © Tnarik Innael – Licence
Denominazione di origine controllata e garantita (DOCG) is the highest Italian wine classification. It guarantees that a wine has been produced in an approved area, and has passed analysis by government-licenced tasters. There are strict production standards covering features like grape ripeness and alcohol content. All approved bottles come with a numbered governmental seal.
There are currently 74 DOCG appellations, which are concentrated in Veneto, Tuscany and Peidmont. Calabria, Liguria, Molise, Trentino-Alto Adige/Südtirol and Valle d'Aosta do not produce any wines to this standard.
The next tier is denominazione di origine controllata (DOC), of which there are 333 appellations across all regions. The rules governing this classification are less stringent than with DOCG.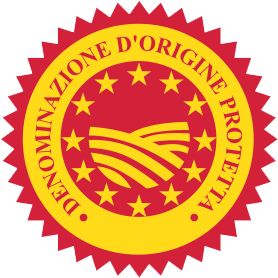 The third tier of Italian classifications, indicazione geografica tipica (IGT), is equivalent to the European Union's Protected Geographical Indication (PGI) classification (indicazione geografica protetta or IGP in Italian). This usually means that one aspect of the wine is associated with the regulated area. For example, it follows the traditional winemaking techniques of a regulated area but uses grapes cultivated elsewhere. There are 118 IGP appellations in Italy.
All other wines fall into the most basic category, vino de tavola (VdT), which translates as table wine. These are generally blended using grapes from different regions and vintages.
Does a higher classification mean the wine is better quality?
Although a higher classification generally equates to better quality and a higher price, there are exceptions. Going against winemaking traditions and experimenting with new techniques isn't necessarily a bad thing.
The so-called 'Super Tuscans' are a great example of this. Though they are considered exceptional wines and fetch high prices, they do not have DOC/DOCG status due to factors like foreign grape usage.
Wine regions in Italy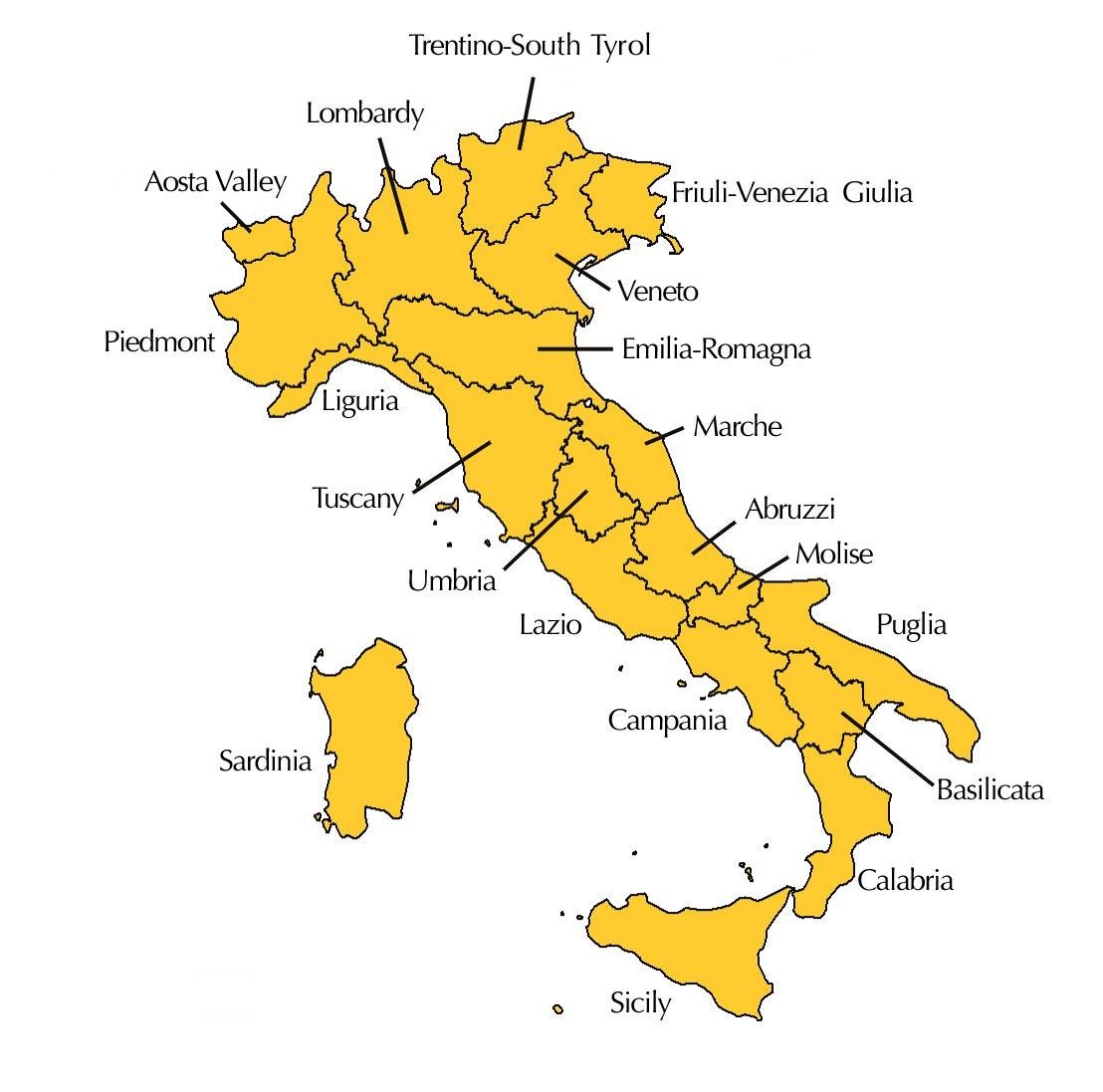 According to the OIV State of the Vitiviniculture World Market report, Italy was home to an estimated 682,000 hectares of vineyards in 2015. This equates to approximately 2% of the country's land. The diversity of terroirs — environmental conditions that affect winemaking — yields a wide variety of grapes across the country.
Italy's 20 administrative regions double up as wine regions. In the north, a continental climate with four distinct seasons creates diversity in the wine. In Central and Southern Italy, and on the south-western island of Sardinia, a Mediterranean climate provides steady warm temperatures for a long yet often dry growing season.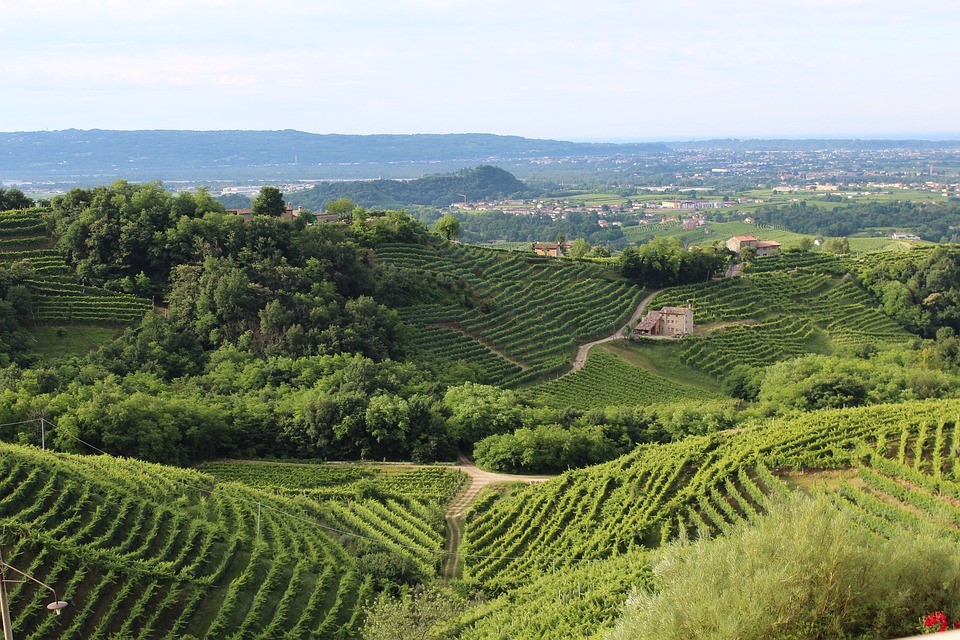 Northern Italy: Aosta Valley, Piedmont, Liguria, Lombardy, Emilia-Romagna, Trentino-Alto Adige/Südtirol, Veneto, and Friuli-Venezia Giulia.
Central Italy: Lazio, Marche, Tuscany, and Umbria.
Southern Italy: Sicily, Abruzzo, Campania, Molise, Apulia, Basilicata, and Calabria. The island of Sardinia lies to the west.
Popular Italian wines
Prosecco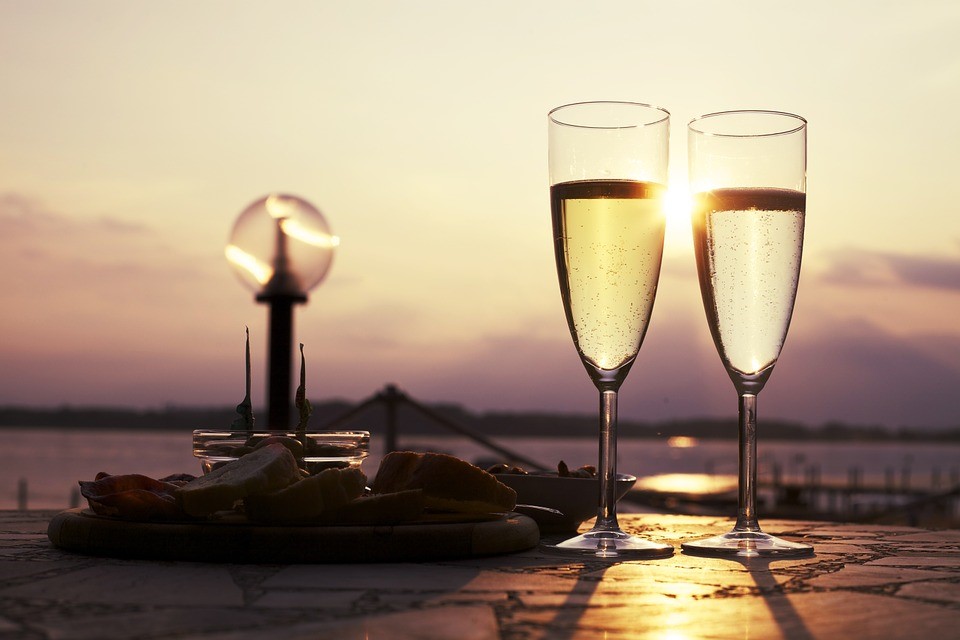 Prosecco (pronounced pro-sek-oh) is hugely popular alternative to Champagne. It is often drunk as an apéritif, but pairs well with light, summery dishes like fruit salad, sushi and sandwiches. You can also add peach purée to create the popular Bellini cocktail.
Prosecco DOC is produced in Veneto and Friuli-Venezia Giulia, and made using at least 85% Glera grapes. It most commonly comes as spumante (11.0%+ ABV), but can also be found in tranquillo (10.5%+ ABV).
Prosecco Conegliano Valdobbiadene Superiore DOCG can only be produced in the Treviso province, on hills that have an advantageous microclimate and demand hand-picking. The slopes of Cartizze are some of the most expensive hectares in Italy. Asolo Prosecco Superiore DOCG is also produced in a restricted area of the Veneto appellation.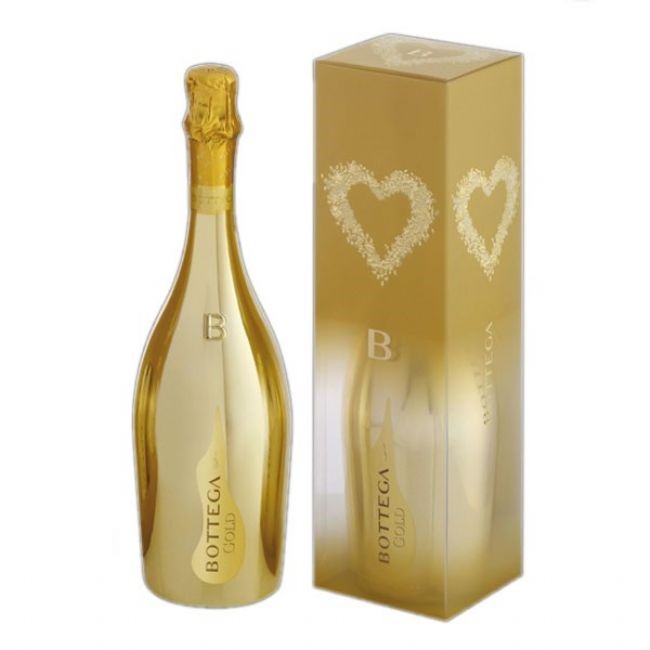 One of the most prestigious Prosecco makers is Bottega, which has a winery and distillery in Bibano, Veneto. Its eye-catching Bottega Gold Prosecco DOC Spumante Brut comes in a distinctive golden bottle which protects the contents from light.
Remember that Prosecco goes stale, so should be consumed as young as possible — ideally within three years of the vintage.
Chianti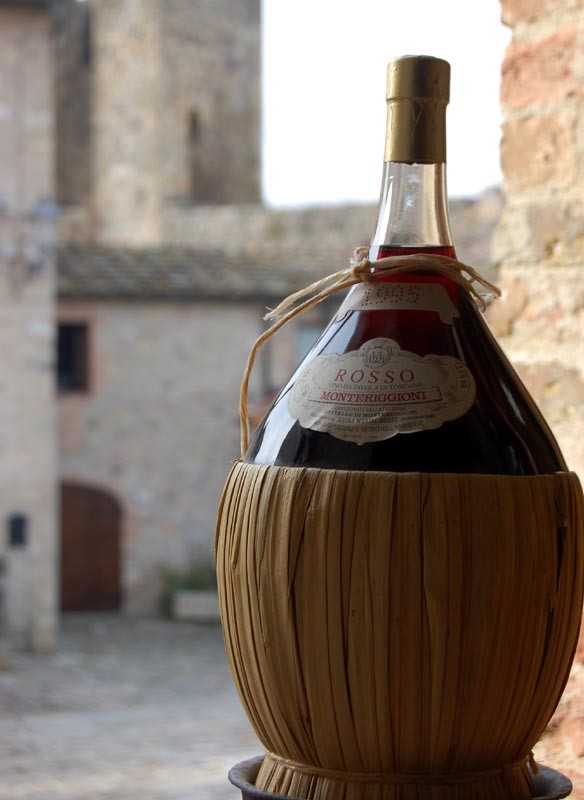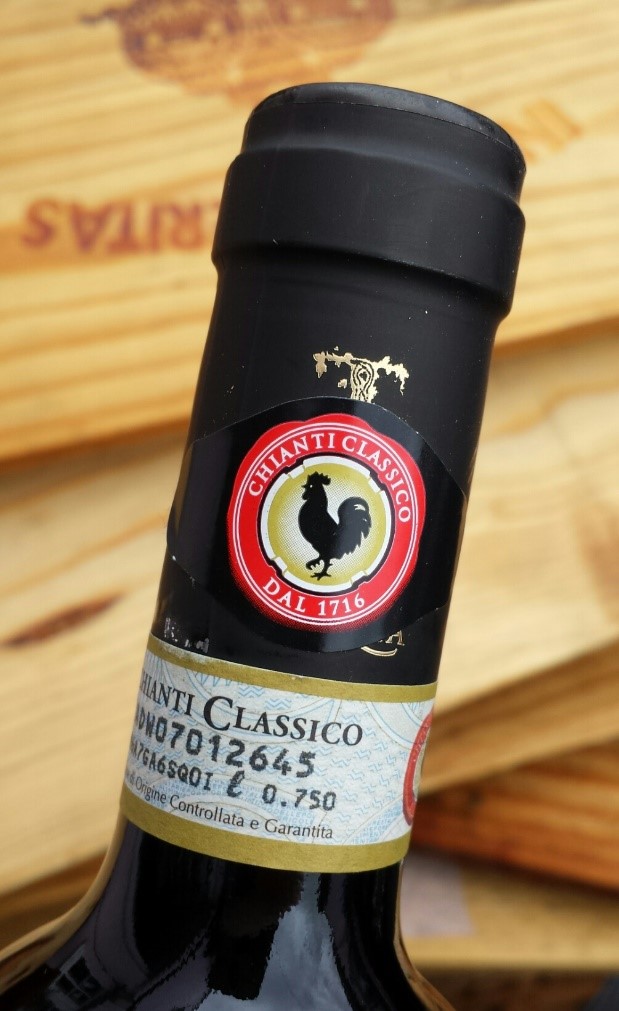 Left: Bottle of Chianti in a fiasco © giulio nepi – Licence, Right: Bottle of Chianti featuring the gallo nero © Dominic Lockyer – Licence
Chianti (pronounced kee-an-tee) DOC is a red wine produced of the Tuscan area of the same name. It was traditionally presented in a rounded bottle called a fiasco, which was easier for glass-blowers to create, and packaged in a protective straw basket.
The wine is available in Superiore and Riserva variants, and pairs well with meat-based pasta dishes like spaghetti bolognaise or lasagne.
Chianti Classico DOCG is a premium appellation produced in the Chianti Classico area with minimum 80% Sangiovese grapes. Authentic bottles are marked with the gallo nero (black rooster) seal of the Consorzio del Vino Chianti Classico (Chianti Classico Consortium), as well as the governmental seal. The highest sub-class is Gran Selezione.
The Killer Bs: Barolo, Barbaresco and Brunello di Montalcino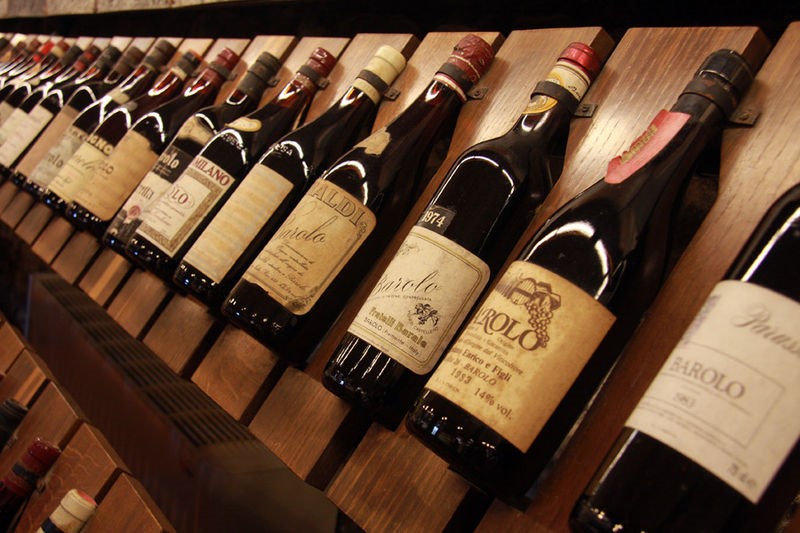 Known as the Killer 'B'S because they're three of the most sought-after appellations in the wine world, Barolo (baa-roh-loh), Barbaresco (baa-ba-res-coh), and Brunello di Montalcino (brew-nel-oh dee mon-tal-chee-no) DOCGs are some of the best red wines you can get.
Barolo DOCG and Barbaresco DOCG are both produced in Piedmont using 100% Nebbiolo grapes, and are each available in Riserva variants. Barolo tends to be more full-bodied.
Brunello di Montalcino DOCG is produced in Tuscany using 100% Sangiovese grapes. It has a minimum ABV of 12.5%, and must be aged for at least four years, including 2 years in a barrel and four months in the bottle. Riserva wines are available. This wine ages well, so it's recommended you wait until 15 years after the vintage before uncorking.
Gavi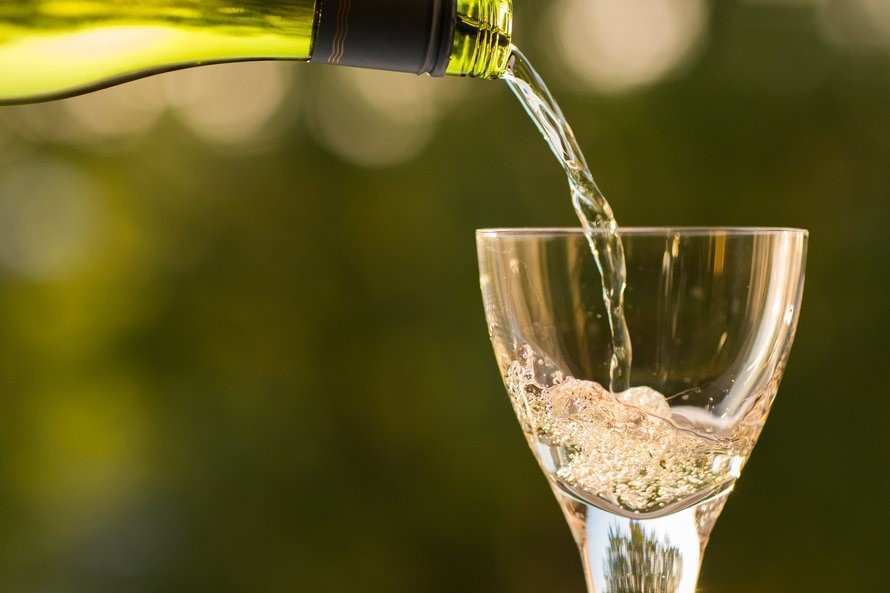 Gavi, or Cortese di Gavi (cor-tay-zay dee gah-vee), is a DOCG appellation in restricted areas of Piedmont. 100% Cortese grapes yield a crisp and dry medium-bodied wine that works well with seafood, risottos and salads. It is available as sprumento, but tranquillo is most popular. Rovereto is generally considered the best terroir in the region.
Where to buy Italian wine
There are counterfeits out there, so you have to be careful when purchasing fine Italian wine. Buy from a reputable retailer with good customer reviews and a returns policy, and inspect bottles for suspicious features like wonky labels upon receipt.
If you're a serious collector, you might even consider becoming a member of WineFraud.com, which provides wine authentication resources. It was set up by Maureen Downey, a wine consultant who helped the FBI get notorious wine fraud Rudy Kurniawan behind bars.
Of course, one of the very best places to buy Italian wine is direct from an Italian winery. If you're lucky enough to visit Tuscany, Florence or any of the country's other incredible wine destinations, don't miss the opportunity to visit vineyards and enjoy tastings onsite.
There's very good reason Italian wine is among the most popular and respected across the world. If you'd like to treat yourself or a loved one, we offer a fantastic range of Italian wine, including a large selection of Prosecco. For more advice and information, don't hesitate to get in touch with the wine connoisseurs here at Bottled & Boxed.
Alla salute!
Whether you're a wine-lover looking to learn more or someone in search of the perfect bottle, our Italian wine guide can help. You'll find out how to understand Italian wine labels, how Italy came to be one of the world's wine capitals, and how the different regions have shaped your favourite varieties.