Wines from the Champagne region were known before medieval times. Churches owned vineyards and monks produced wine for use in the sacrament of Eucharist. French kings were traditionally anointed in Reims and champagne wine was served as part of coronation festivities. In 1114, William of Champeaux, bishop of Châlons-en-Champagne, issued the Grande charte champenoise (Great Champagne Chart) which defined the agricultural and viticultural possessions of the Abbey of Saint-Pierre-aux-Monts, thus giving rise to the modern Champagne wine region.

Kings appreciated the still, light, and crisp wine, and offered it as an homage to other monarchs in Europe. In the 17th century, still wines of Champagne were the wines for celebration in European countries. The English were the biggest consumers of Champagne wines.

Although it is still widely believed that the first commercial sparkling wine was produced in the Limoux area of Languedoc in 1531, this was disproved by Tom Stevenson in Christie's World Encyclopedia of Champagne & Sparkling Wine (1998), where he recalls having "discovered that the records date from 1544, not 1531" and claims these records contain "no mention of the wine being sparkling, nor even any use of words that could be construed to mean the slightest effervescence".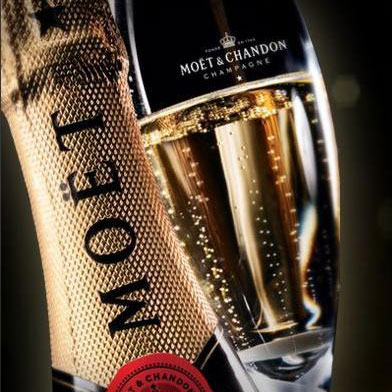 The Champagne house of Gosset was founded as a still wine producer in 1584 and is the oldest Champagne house still in operation today. Ruinart was founded in 1729 and was soon followed by Taittinger (1734), Moët et Chandon (1743) and Veuve Clicquot (1772).
The nineteenth century saw an explosive growth in champagne production going from a regional production of 300,000 bottles a year in 1800 to 20 million bottles in 1850.

Around 1700, sparkling Champagne, as we know it today, was born in France. However, the English scientist and physician Christopher Merret documented the addition of sugar to a finished wine to create a second fermentation six years before Dom Perignon set foot in the Abbey of Hautvillers and almost 40 years before it was claimed that the famed Benedictine monk invented Champagne. Contrary to legend and popular belief, Dom Perignon did not invent sparkling wine. Merrett presented the Royal Society with a paper in which he detailed what is now called méthode champenoise in 1662.

Although the French monk Dom Perignon (1638-1715) did not invent champagne, it is true he developed many advances in the production of this beverage, including holding the cork in place with a wire collar to withstand the fermentation pressure. In France, the first sparkling Champagne was created accidentally; its pressure led it to be called "the devil's wine" (le vin du diable) as bottles exploded or the cork jolted away. Even when it was deliberately produced as a sparkling wine, Champagne was for a very long time made by the méthode rurale, where the wine was bottled before the only fermentation had finished. Champagne did not utilize the so-called méthode champenoise until the 19th century, 300 years after Christopher Merret documented the process.

Champagne first gained world renown because of its association with the anointment of French kings. Royalty from throughout Europe spread the message of the unique sparkling wine from Champagne and its association with luxury and power. The leading manufacturers devoted considerable energy to creating a history and identity for their wine, associating it and themselves with nobility and royalty. Through advertising and packaging they sought to associate champagne with high luxury, festivities and rites of passage. Their efforts coincided with an emerging middle class that was looking for ways to spend its money on symbols of upward mobility.

In 1866 the famous entertainer and star of his day, George Leybourne, began a career of making celebrity endorsements for Champagne. The Champagne maker Moët commissioned him to write and perform songs extolling the virtues of Champagne, especially as a reflection of taste, affluence, and the good life. He also agreed to drink nothing but Champagne in public. Leybourne was seen as highly sophisticated and his image and efforts did much to establish Champagne as an important element in enhancing social status. It was a marketing triumph, the results of which endure to this day.

In the 1800s Champagne was noticeably sweeter than the modern Champagne is today, The trend towards drier Champagne began when Perrier-Jouët decided not to sweeten his 1846 vintage prior to exporting it to London. The designation Brut Champagne, the modern Champagne, was created for the British in 1876.
Wines from the Champagne region were known before medieval times. Churches owned vineyards and monks produced wine for use in the sacrament of Eucharist. French kings were traditionally anointed in Reims and champagne wine was served as part of coronation festivities. In 1114, William of Champeaux, bishop of Chalons-en-Champagne,