Christmas season is often signaled by jolly music, bright lights and is meant to be a time of celebration and relaxation spent with friends and family. However, in reality, Christmas isn't all about endless parties and festivities. For some, it can also be a time of worry and stress because of a number of reasons such as the pressure of socializing, the worry of spending too much money, and the gruelling task of finding perfect presents for all the people in our gift list.
In this time of the year, it's easy to get caught up in the search for the perfect gift. We often find ourselves asking "Will my mother like this?", "Is this something my sister would buy for herself?" While selecting gifts can be stressful, the joy that comes with seeing your recipients delighted over your gifts makes all the hassle and struggle worth it.
One of the people that can be the trickiest to select gifts for is your employees and clients. For these people, you do not just aim to show them your appreciation, you also want to be able to give gifts that may further strengthen and enhance your professional relationships.
Selecting a Christmas Corporate Gift
Choosing the right Christmas gifts for employees and clients is something that requires a lot of thought. While you should aim to give a gift that is thoughtful, it should also be generic enough to cater to different people with different tastes and preferences. Corporate gifts should be professional yet still feel personal and getting the balance right can be tricky.

While it may be hard to find the perfect corporate gifts, there are three easy ways to enhance it and make it a token of appreciation that can really help demonstrate to clients and employees how much you care about them.
Spend on packaging
The presentation can be just as important and impactful as choosing the right gift. How you present your gift can say a great deal about how much you value your professional relationship. Make it a point to spend time and money on how you present your gift.
Don't make it promotional
Many companies make the mistake of sending gifts to partners and clients that contain their company's logo, name and even products. That makes your gift look more like a marketing effort than a token of appreciation.
Add a personal touch
Even the most commonly given present can become remarkable with the right personal touch. Avoid sending a simple Christmas card with a signature. If you really want to make a lasting effort with your corporate gift, take a minute or two to write a sincere handwritten note about how you value your business relationship.
Selecting a gift for your business' clients and internal employees is something that shouldn't be taken lightly. Since business is involved, the wrong gift might end up forgotten or worse, might offend your clients or employees. Meanwhile, carefully considered and well-thought-out corporate gifts can strengthen your professional relationships and make them feel valued and appreciated.
Why Wine Can Be A Great Corporate Gift
A bottle of wine has long been considered an ideal present, especially with our long and culturally significant relationship with drinking. Many of our life celebrations involve some form of celebratory drink and let's admit, it can be challenging to maintain a social life without having a few drinks. It's normal to grab a pint with friends after work, open a bottle of red for a date, go on a craft beer tasting event, or even pop a bottle of Champagne alone at home.
According to a report from Mirror, the UK is slowly becoming a nation of wine lovers, especially with the current rise in the popularity of drinking prosecco. With years of record-breaking sales, prosecco is expected to beat champagne as the most loved bubbled beverage. The bubbly Italian drink has become the best-selling sparkling wine in the UK and while it's hard to pinpoint when this prosecco craze started, the sales started rapidly rising in 2011, and consumption doubled in the UK from 2013-2014. Since then, the growth has been consistent and it seems like the prosecco bubble is still far from bursting.
A bottle of wine or prosecco can be an elegant choice of corporate gift that most people can enjoy and appreciate. There's a reason why it's one of the top corporate gifts according to Real Business UK. It is not in any way an impersonal gift and even though it's a fairly common and convenient choice of gift, there are many ways to personalise it but still make it a professional gift at the same time.
Purchasing a bottle of wine has never been easier with the emergence of online shopping. However, there is a dizzying amount of choice when it comes to giving wine as a gift. From sparkling to still wine, spirits and all the subvarieties, it can be tempting to just grab the first bottle you see. But that definitely wouldn't work if you're aiming to impress your clients and employees.
Bottles for internal employees
Employees are invaluable assets to the success of a business and at Christmas time, managers will want to thank them in more ways than a simple pat on the back. Employees can enjoy the gift of a nice bottle of wine with their families or friends.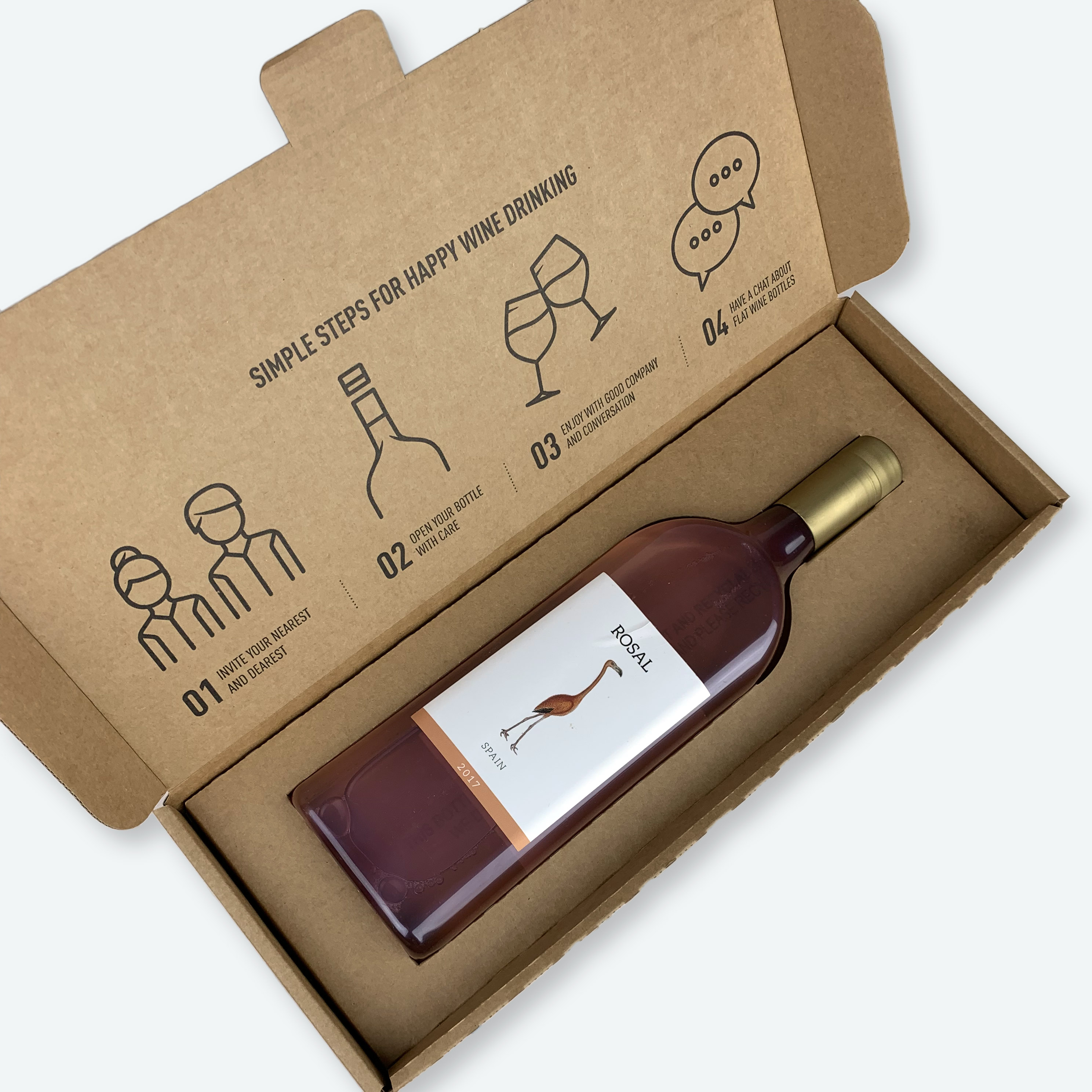 Your staff and employees will surely be delighted with this one-of-a-kind bottle of wine. With its flat full-size 75cl bottle, the genius design of this letterbox wine will certainly capture everyone's attention. However, its design isn't the only noteworthy thing about it. Best served chilled at 7-12 degrees, Spanish Rosal Rose has a refreshing, crispy and fruity nature with the youthful taste of strawberries and roses.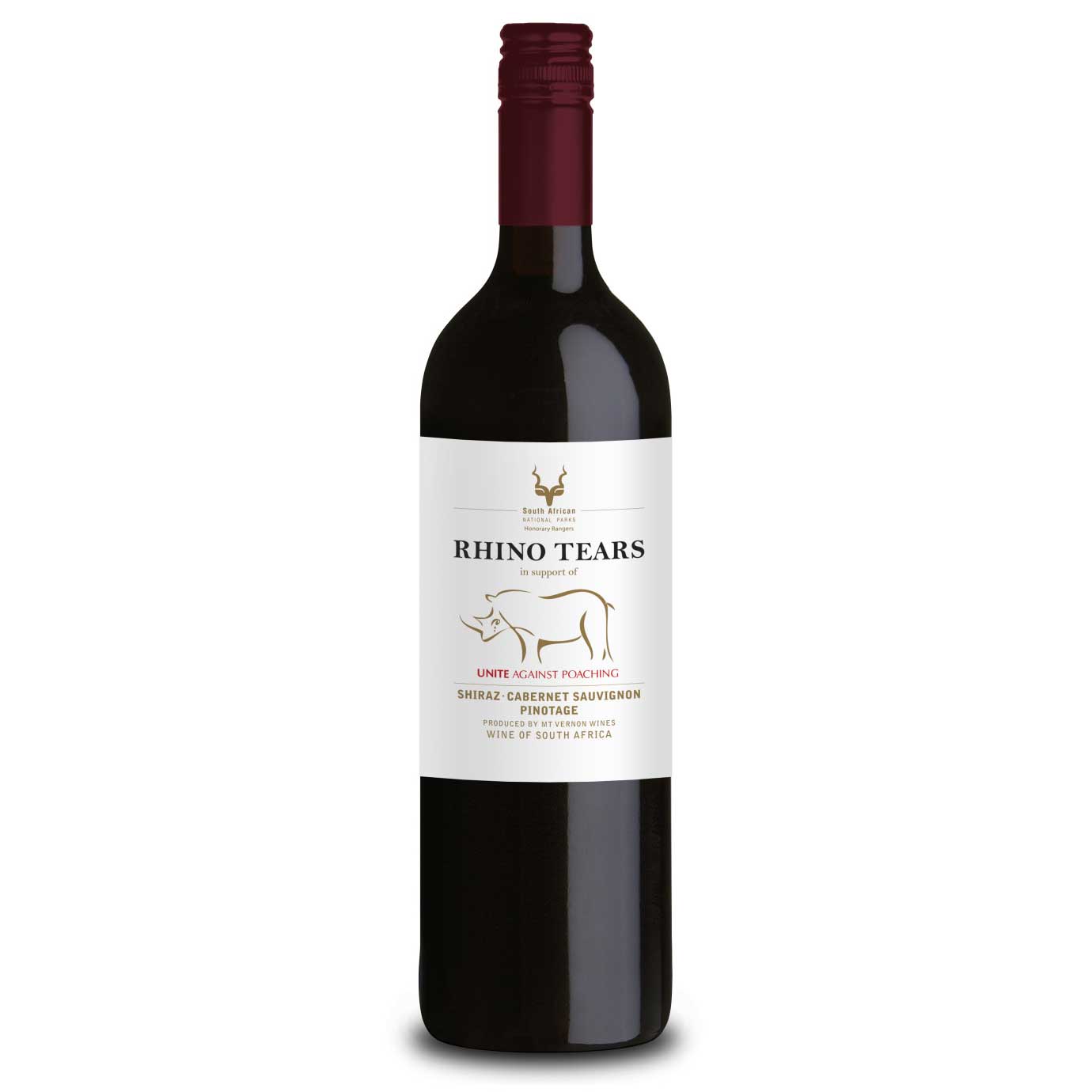 When it comes to gifting wines, you can't go wrong with a classic red. This rich and appealing dark red wine has a strawberry and wild raspberry flavor.
This Brut Champagne is popular for its delicacy, freshness and elegance. With its round mouth, subtle attack, and good length, this premium Champagne makes a great choice of drink for a holiday gathering.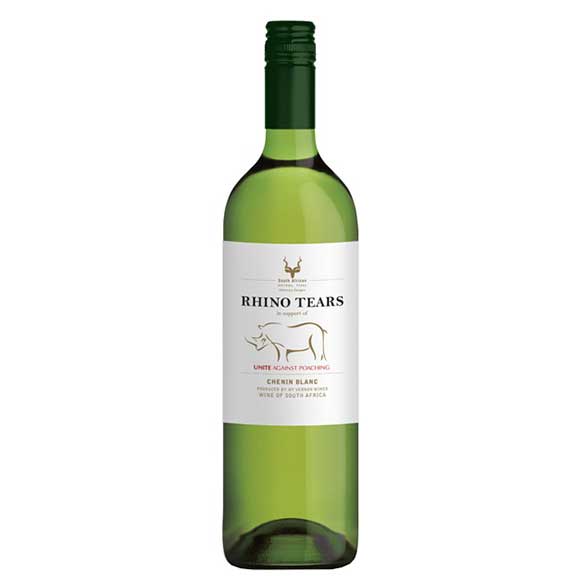 Chenin Blanc is a dry white wine that is suitable for family dinners and everyday occasions. With its hints of nettle and fresh-cut grass and tropical fruit, Chenin Blanc is perfect to pair with creamy kinds of pasta and steaks.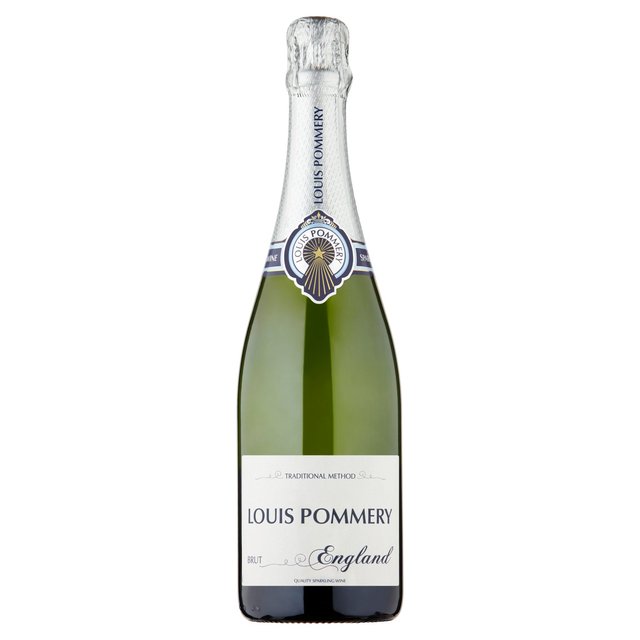 With its sublime notes of green apples and finish of peaches and apricots, this sparkling wine makes a great accompaniment to a satisfying meal with friends or family.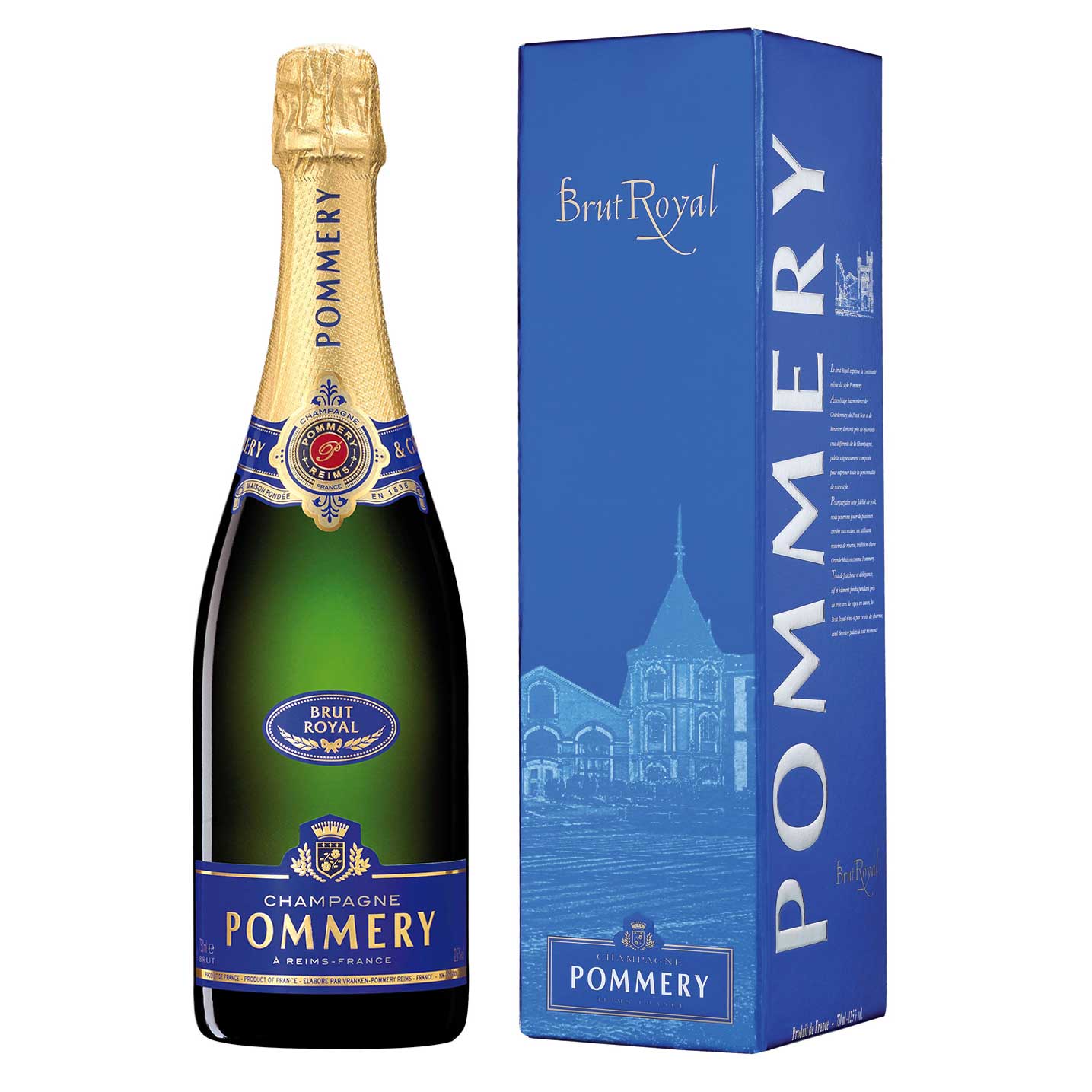 With its rounded, rich and delicate taste, this non-vintage Champagne can be the perfect addition to any holiday party or dinner.
For clients and business partners
Showing your appreciation to clients is a great way to retain business and maintain and strengthen professional relationships. For clients that are indispensable to your business' growth and success, only the finest bottles will do.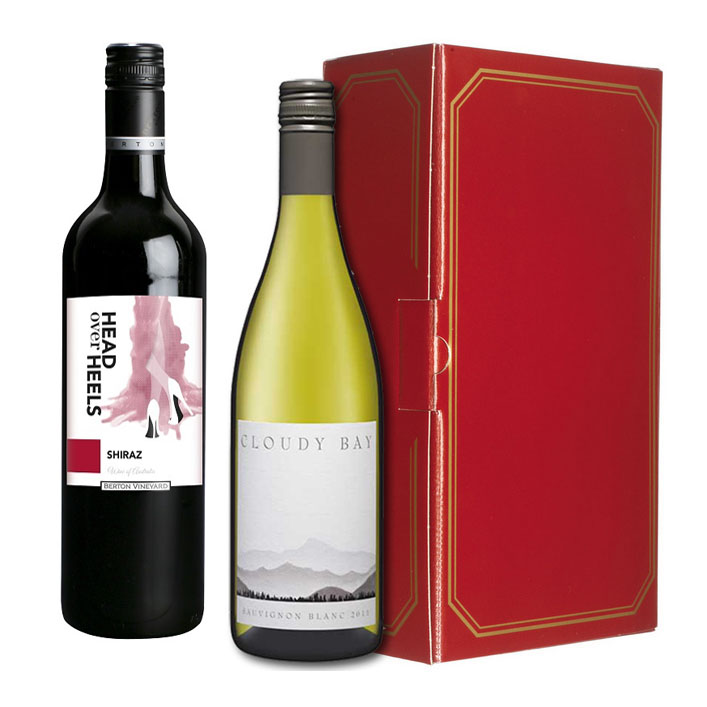 If you are feeling a little more generous, why stop at one bottle? For large companies, make sure that everyone will be covered with our Modern Wine Duo. This wine duo includes Cloudy Bay Sauvignon Blanc and Head Over Heels Range by Berton Vineyards. Pair these with hard cheeses and creamy kinds of pasta to get the full experience of this delightful red wine.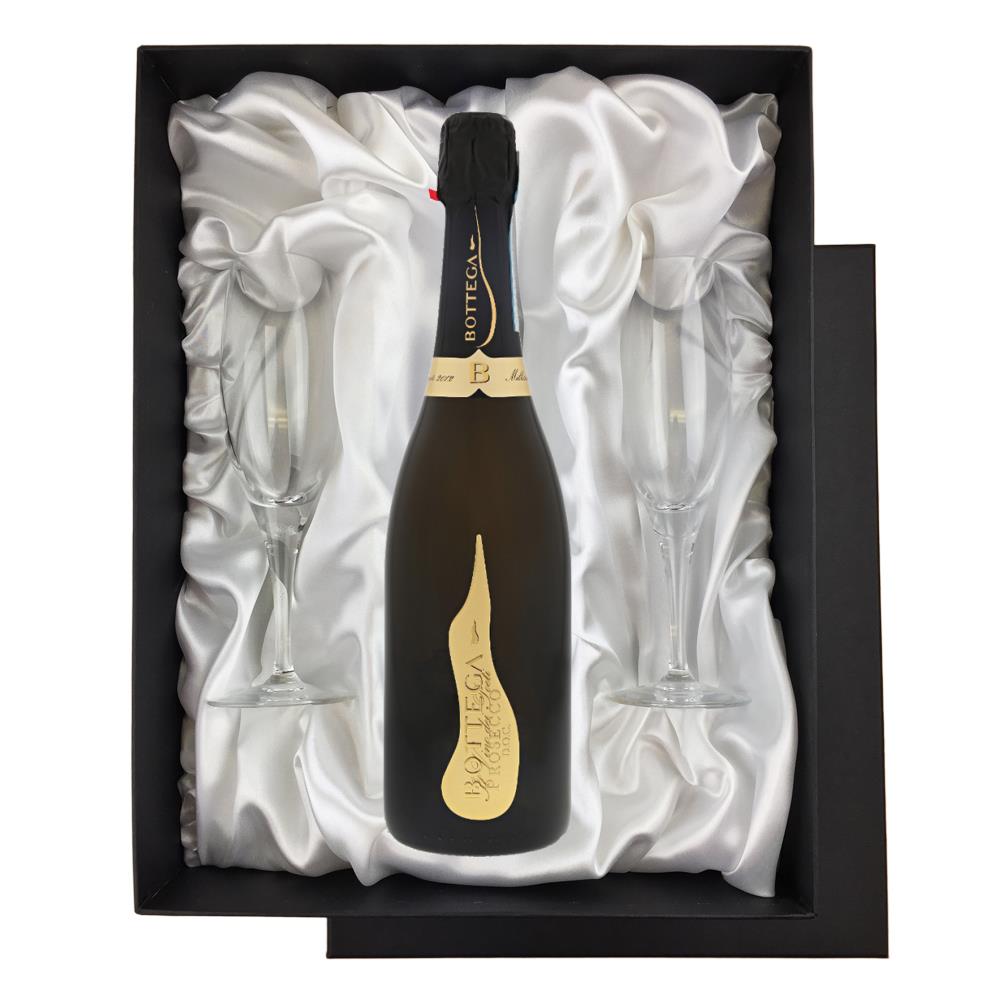 This bottle comes with two beautiful Sensation flutes that are housed inside a black luxury presentation box. The wine has a straw colour, fine bubbles and a refreshing finish.
Who wouldn't want a bottle of Champagne and boxes of chocolates for the holidays? With its subtlety, freshness, and delightful aroma of white blossoms and ripe fruit, Nocturne Champagne is ideal to enjoy before, during, and after dinner. This Hamper also comes with Belgian chocolates that will delight anyone with a sweet tooth.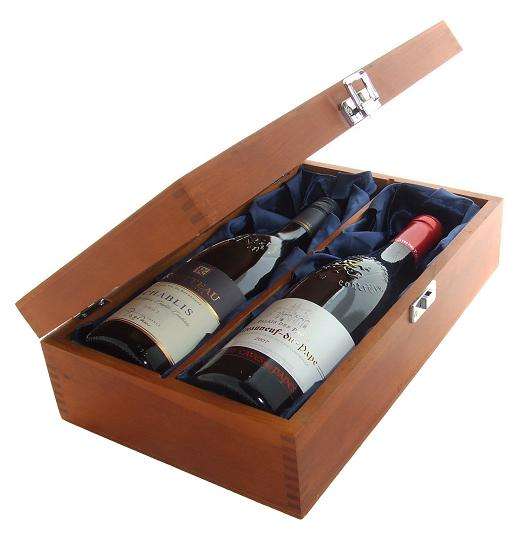 These two bottles of wine are attractively presented in a luxurious stained wooden box with hinged and lid clasp. This wine duo includes the smooth and rounded Châteauneuf-Du-Pape and crisp with citrus fresh notes Marcel et Blanche Fèvre Chablis Marcel et Blanche Fèvre.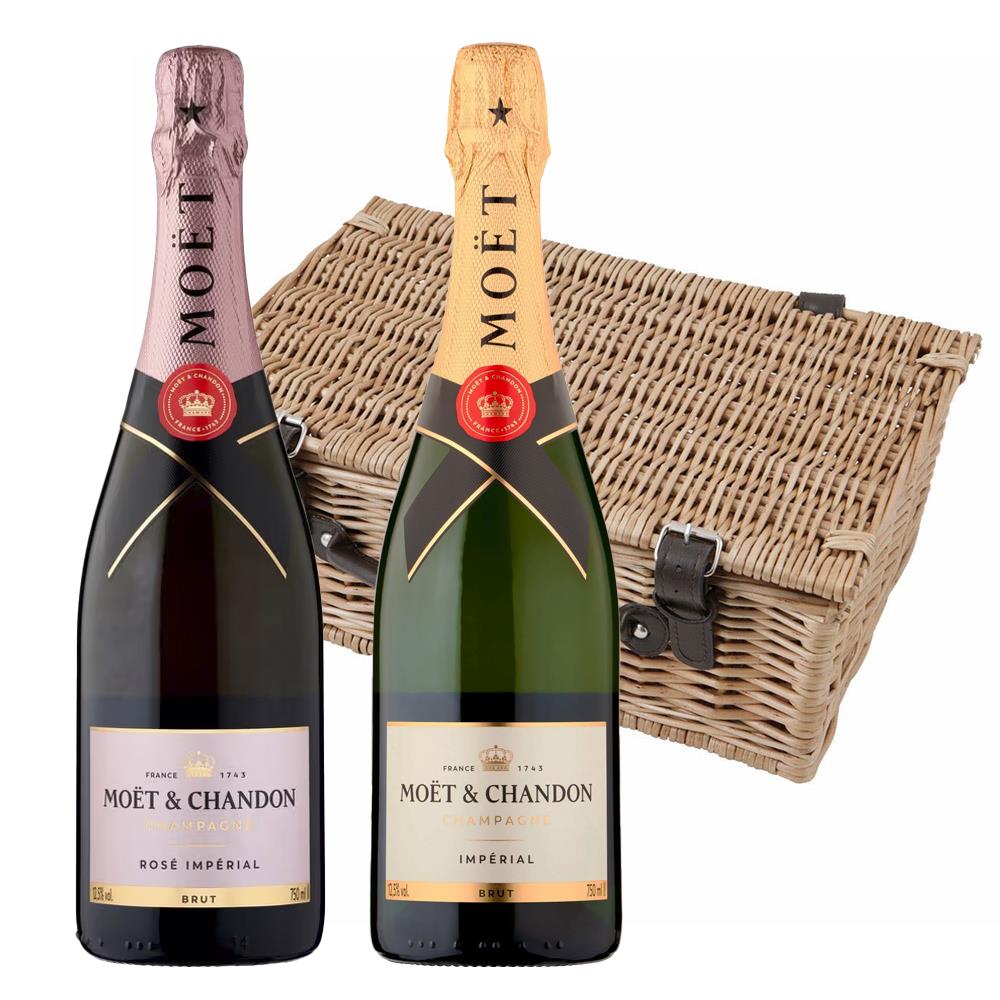 Nothing says celebration better than two bottles of Champagne. This lovely hamper with leather straps comes with a Moet and Chandon Brut and Rose will be the perfect present for clients.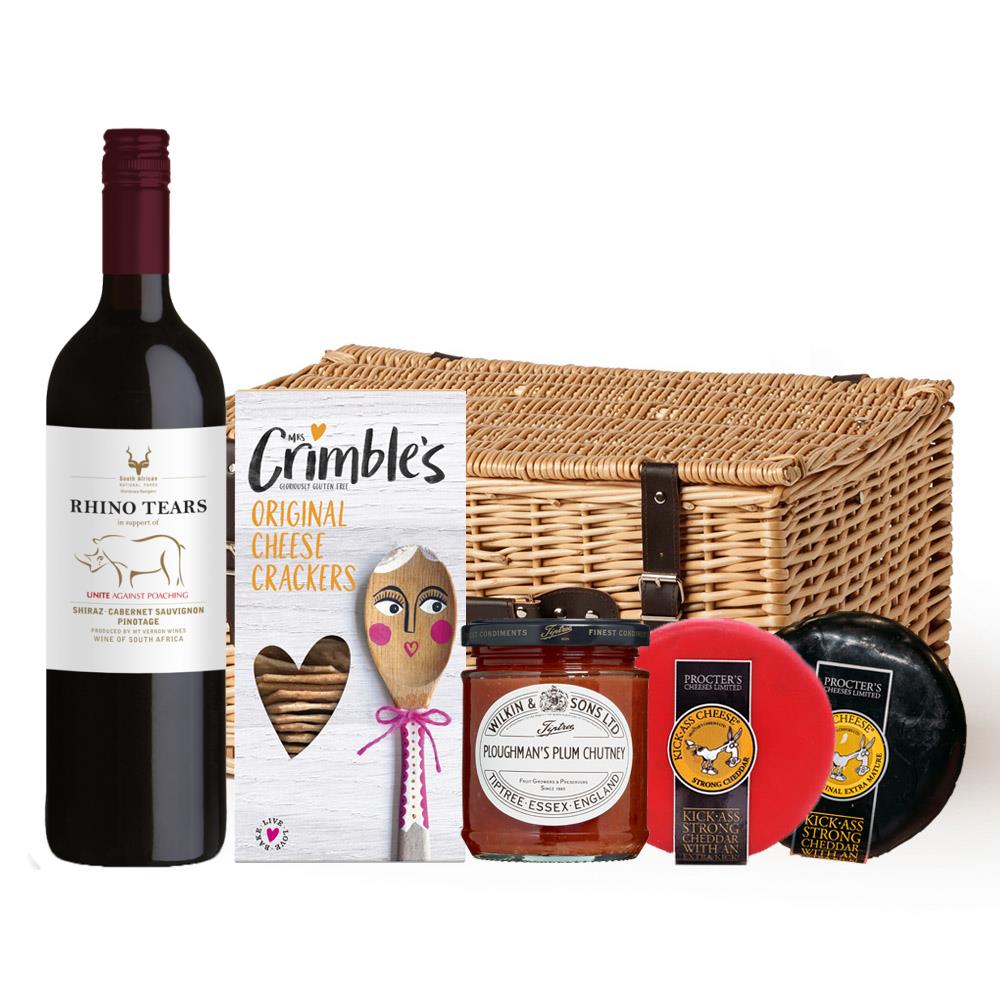 Cheese and crackers with a bottle of exquisite wine are a popular gift choice. Delight your client with this fine selection of Rhino Tears Red Wine, a delicious farmhouse mature cheddar and highland oatcakes and red onion chutney.
Make Christmas in your business merrier with Bottled and Boxed
Celebrate company success and the holidays with corporate gifts for employees and clients. Bottled and Boxed offers a wide selection of wine and spirits that are carefully selected by wine experts. We deliver anywhere in the UK. Contact us on +44(0)1325 313 456 or email info@bottledandboxed.com.
Choosing the right Christmas gifts for employees and clients is something that requires a lot of thought. While you should aim to give a gift that is thoughtful, it should also be generic enough to cater to different people with different tastes and preferences.