Lanson Champagne began in 1760 when François Delamotte began making and selling his own brand of champagne. In 1786 he took on a new partner Jean-Baptiste Lanson. In 1856 the Lanson family gained full control and the name was changed to Lanson Père & Fils.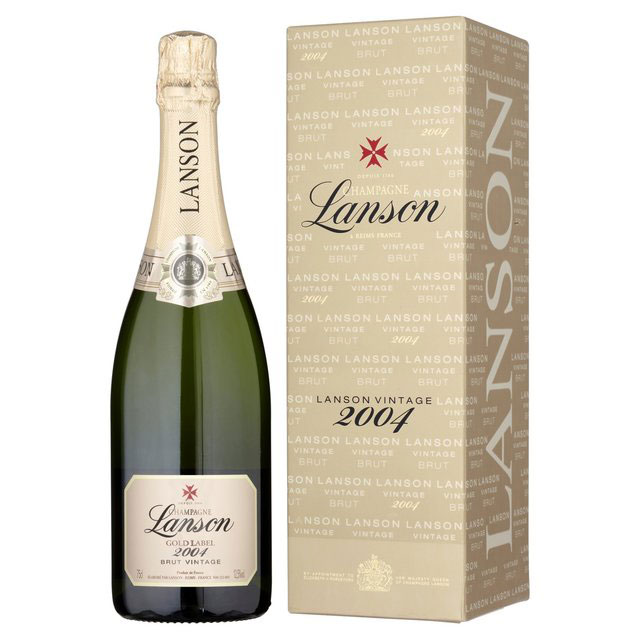 Veuve Clicquot is known internationally for its classically styled boldness and modernity to perfection, innovation and creativity one of its founding values, and the Champagne is easily recognised by its distinctive bright yellow labels, the Champagne also holds a royal warrant of Queen Elizabeth II.
A taste for excellence, the pursuit of perfection, a refusal of ephemeral trends, but also a passion for a particular art form, enthusiasm for innovation and a quest for the beautiful: these are the secrets of the House Veuve Clicquot Ponsardin. Quality and excellence of wines go hand in hand with innovative products — the Clicquot Box is a perfect example of this.


Lanson Black Label NV Brut

Lanson Black Label NV Brut Champagne carries the Royal Warrant.
To the eye the brilliant, limpid colour recalls the characteristic straw tones of the Pinot Noir, with glints of amber. It is lively in the flute, with a fine stream of persistent bubbles. On the nose it gives an impression of vitality and springtime scents, together with hints of "toast" and from a variety of flowers.
35% Chardonnay, 50% Pinot Noir, 15% Pinot Meunier. The blend is made of wines from between 50 to 60 different crus

Lanson Rose Label NV Champagne

A rose champagne with a beautiful pure colour with pale salmon touches. On the nose aromas of roses and fruit predominate, with discrete notes of red fruit. On the palate the initial impression is tender; well-rounded and fresh, this wine has harmonious balance and good length on the finish.
32% Chardonnay, 53% Pinot Noir, 15% Pinot Meunier. The blend is made of wines from between 50 to 60 different crus

Lanson White Label

Faithful to the Lanson House style, the champagne is fresh, zesty and refreshing but has a softer, off dry character that makes it dangerously drinkable. White Label is a more informal style of champagne suitable for any occasion and for drinking at any time of day. It's sweeter style permits experimenting with fruit additives.
35% Chardonnay, 50% Pinot Noir, 15% Pinot Meunier. The blend is made of wines from between 50 to 60 different crus

Lanson Gold Label 2004

To make its 2004 Vintage, Lanson selected the most expressive wines from Grand Cru Chardonnay and Pinot Noir vineyards. The pale gold colour of the wine is enlivened by very fine bubbles. The aromatic palette of dried and candied fruits, grilled almonds, apricot, fig and mandarin is generously expressed in the bouquet. On the palate, the attack is meaty and complex, with the candied mandarin finish developing long-lasting tangy notes.
Blend: 48% Chardonnay, 52% Pinot Noir Vineyards: Chardonnay Grands Crus: Avize, Cramant, Oger, Le Mesnil sur Oger; Pinot Noir Grands Crus: Ay, Verzenay, Verzy, Bouzy.

Lanson Extra Age Brut

To the eye, Extra Age Brut is a vibrant straw yellow with fine bubbles. The first clues, notes of yellow fruit and dried fruit, combine quickly with fragrances of honey, biscuit and sweet spices, developing a powerful and complex aromatic palette.
Chardonnay: 40%, Pinot Noir: 60%. The blend of wines is made from the crus or villages of Chouilly, Avize, Oger, Vertus, Verzenay and Bouzy.

Lanson Extra Age Rose

Lanson Extra Age Rose offers a salmon-pink, coppery robe enlivened by a myriad of fine bubbles. The fragrances of red berries and sweetmeats are dominated by the aroma of strawberry jam.
Chardonnay 35%, Pinot Noir 65%. The blend of wines is made from the crus or villages of, Avize, Chouilly,Cramant, Oger, Le Mesnil sur Oger, Verzenay, Bouzy