Louis Roederer is one of the largest remaining independent Champagne Houses, owned by the same family since it was founded in 1776, the House of Champagne Louis Roederer has been synonymous with the world's great Champagnes.

The Louis Roederer experience is defined first and foremost by the art of champagne making. Such artistry can only be attained when it begins with this kind of uncompromising commitment to the individual vines, where the essence of the final product begins to develop.

With over 70% of the grapes coming from its own estate vineyards, and the largest percentage of vineyard ownership of any major Champagne house, Louis Roederer is proud to have such careful control over the quality of its grapes. To enhance the winemaking process and ensure consistent quality and complex flavors, every good vintage year some of the very best wines are aged in large oak casks located in Roederer's reserve wine cellar.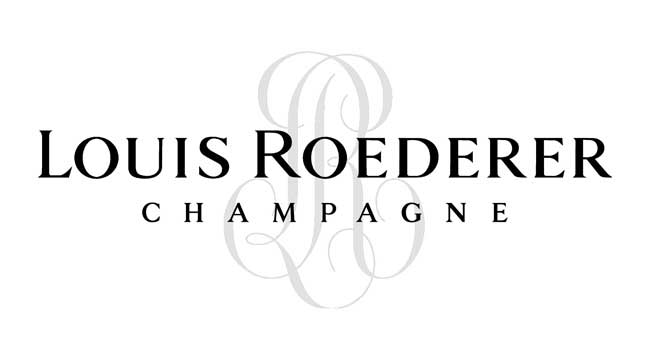 In the period 1832 to 1870, under the direction of Louis Roederer, the house gained top ranking worldwide with sales of 2,500,000 bottles, including 390,000 in the United States and 660,000 in Russia where Louis Roederer champagne was an outstanding success. In 1876, Louis Roederer II who had succeeded his father created the Cristal cuvée for Tsar Alexander II.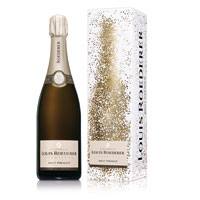 Louis Roederer Brut Premier Champagne

Brut Premier is the embodiment of Louis Roederer style, combining all the fruitiness and freshness of youth with the vinosity of a fully mature wine. This is a structured and elegantly mature wine, with a lively attack and a smooth palate.

Blend: 56% Pinot Noir, 34% Chardonnay and 10% Pinot Meunier, including 10% of reserve wines from three former harvests, aged in oak casks for 2-6 years. Maturation: an average of three years ageing on lees, plus another six months after disgorging.
Dosage: 11-12g/L of sugar from the dosage liqueur.
Tasting notes: a golden colour with fine bubbles and a nose of fresh fruit and hawthorn. Smooth, complex palate mingling flavours of white-fleshed fruit (apple and pear) with red berries (blackberries, raspberries, cherries) and notes of toast and almonds. A pleasurable wine, deliciously smooth and mature. Choice of food: Brut Premier is excellent as an aperitif but also readily accompanies light entrées based on fish or shellfish.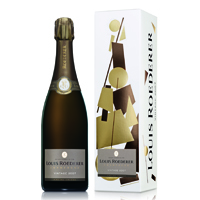 Louis Roederer Brut Vintage Champagne

Every Brut Vintage is blended exclusively from the wines of an exceptional harvest and has the mark of the particular vintage from which it is produced. Rich, full-bodied and opulent, this is a wine to enjoy with food. For those who enjoy a more complex style of wine, it will tolerate several years' cellaring.

Blend: 66% Pinot Noir and 34% Chardonnay, chosen from the finest crus in the Louis Roederer vineyards.
Maturation: an average of four years ageing on lees, followed by more than six months after disgorging.
Dosage: 11-12g/L of sugar from the dosage liqueur.
Tasting notes: golden straw colour with bronze highlights; light and lively nose with the fragrance of very ripe fruits; warm, succulent palate recalling flavours of Tarte Tatin pie plus touches of brioche dipped in honey.
Choice of food: the richness and depth of the wine makes this the ideal champagne to accompany a meal. It is especially delicious with fish or white meat served in a sauce and is best served at temperatures of around 50-54°F (10 to 12°C).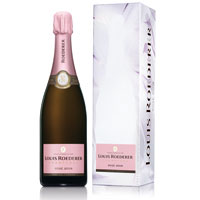 Louis Roederer Brut Vintage Rosé Champagne

Louis Roederer Vintage Rosé is a unique and rare Champagne of exceptional style thanks to the very particular way in which it is made. Indeed, Louis Roederer is one of the few Houses that still use maceration on skins, a delicate method by which Pinot Noir grapes are left to macerate on the press for several hours to extract more fruit and colour. Skin maceration requires highly concentrated and aromatic grapes that only grow on the very old vines of Cumières and only in exceptional vintages.

Blend: 70% Pinot Noir and 30% Chardonnay.
Maturation: an average of four years ageing on lees, plus more than six months after disgorging.
Dosage: 11-12g/L of sugar from the dosage liqueur.
Tasting notes: Salmon-pink appearance with coppery highlights. Rich nose with fresh fruit (blackcurrant, bilberry) mingled with aromas of cocoa and mocha coffee. Strong, fruity palate with flavours of Morello cherry and gingerbread. A fresh and persistent finish.
Choice of food: Brut Vintage Rosé pairs well with fish such as salmon, with meats such as lamb, veal or guinea-fowl, and with mild, creamy cheeses. It also complements desserts that are not overly sweet, such as fresh red berries with zabaglione cream.
Louis Roederer Cristal Champagne

The jewel of the House is Cristal, created in 1876 for Tsar Alexander II. This is champagne at its finest, as inspired today as it has always been, the embodiment of elegance and purity.

Cristal is made according to the strictest criteria, based on a drastic process of selection applying to the vintage, the cru, the village, the grapes and finally the wines. Only Pinot Noir and Chardonnay grapes from the House's 10 most celebrated crus are used in the production of this legendary cuvée.