Claude Moët, a wine trader descended from an old family resident in the Champagne region since the 14th century, founded his house in Epernay in 1743, and decided to perpetuate the Dom Perignon legacy.
His grandson, Jean-Rémy Moët, is the one who, in the 19th century, really helped the house expand by opening it up to foreign markets.Jean-Rémy Moët handed the house over to his son and his son-in-law, Pierre-Gabriel Chandon de Briailles. It then took on the Moët & Chandon name.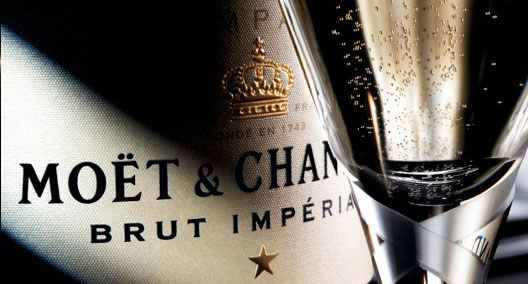 With an inherited tradition and know-how strengthened over the generations, Moët & Chandon is today number one in the profession and the Champagne brand of reference. Leader in the export market, the house sells over 80% its of production to foreign markets.
Its reputation is exceptional: a Moët & Chandon cork pops somewhere on Earth every single second. The house's vineyards span a total of 771 hectares. This makes it by far the greatest in the region.
Moet & Chandon Brut Imperial Champagne

Brut Impérial is a balanced assemblage of the three vine varieties disclosing a succession of elegant and harmonious sensations, a fresh maturity, supple and refined lines, inspiring well-being and an emotion which is appreciated and shared.

Quality : Brut. Harmonious assemblage of Chardonnay, Pinot Noir and Pinot Meunier. Colour : pale yellow with shades of green. Aroma : subtely vinous, with a vine and lime blossom attack. Palate : delicate well-balanced ; leaves behind a sense of harmony, mellowness.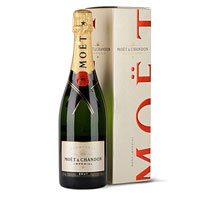 Moet & Chandon Brut Rose Champagne

Brut Rosé is a seductive wine : the assemblage, which is formed around Pinot Noir, is both spontaneous and balanced, emphasising fruity liveliness. It is zestful, with great suppleness. The assemblage with red wine also gives it feminine, coppery shades.

Quality : Brut. Harmonious assemblage of Chardonnay, Pinot Noir and Pinot Meunier. Colour : rosé with shades of copper. Aroma : lively, expressive, dominated by the scent of wild strawberries. Palate : full-bodied, zestful, assertive fruitiness.
Moet & Chandon Vintage Champagne

Vintage are marked by an exceptional Summer. Spring was rather dull and flowering late but rapid, however it was saved by a Summer which produced a heatwave from the last days of June onward. During the last two months rain was rare with some isolated storms and temperatures higher than the seasonal norm of the last 30 years. The fresher conditions in September scarcely affected the maturation of an initial strong style.

Quality : Brut Assemblage : 35% Chardonnay, 60% Pinot Noir, 5% Pinot Meunier Tasting : The wine sparkles and breathes, binding together the sensations of depth and harmony. The complexity of taste begins initially with figs and dried apricots progressively revealing nuances of cocoa and cinnamon.